Overcooked: Special Edition Impressions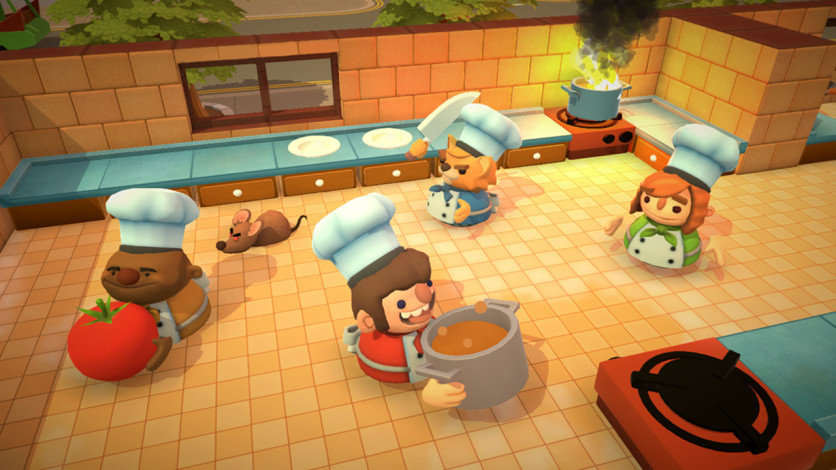 The act of cooking is an integral part of our everyday lives and one that many enjoy partaking in. So why don't we have any good cooking-based video games? Sure, cooking on the surface isn't as exciting as shooting zombies, racing go-karts, or swinging a sword, but someone has to eventually find a way to make a compelling cooking game, right?
No disrespect intended towards BurgerTime or Cooking Mama, but Overcooked might be the riveting cooking game that we never knew we wanted. A hit indie title last year on PC, PlayStation 4, and Xbox One, the game finally makes its way to the Nintendo Switch in a special edition. Is this port a worthwhile addition to your Nintendo Switch library?
Working together as chefs, your team will move from level-to-level, trying to complete as many orders as possible within the time frame. It's going to require teamwork, as players will have to divide a myriad of tasks among the group, from gathering ingredients, to cooking the food, serving the food, and even washing dishes among many others.
As if this wasn't tricky enough, you're also working in the zaniest kitchens imaginable. In one level, you're working in a kitchen split by a busy walkway with people constantly blocking your way. In another, you're jumping between kitchens on moving trucks. In a third, you might be sharing a tight space on an iceberg, trying to keep your footing on slippery ground without falling into the water.
With friends, this game really shines. Playing alone, it's not bad, but definitely not the same. You will manage two chefs, jumping between the two as needed. It does help that you can leave a chef alone while they chop food or wash dishes in order to multitask with the other, but some of the magic is lost when you're not coordinating with another human being.
It's worth noting that the game does not feature online play on any platform, including the Switch. I'm fine with that, as playing this online without any guarantee that you can voice chat would be a disaster with this game. However, the Nintendo Switch version seems to have some frame rate issues. It's consistent, but it's also consistently running under 30 FPS. In multiplayer, it's actually okay, as the camera is static throughout. In single player though, the camera pans around to focus on who is in control, making the look more jarring. It's disappointing, but certainly playable. I hope Ghost Town Games and Team 17 can clean this up in a future patch.
Overcooked: Special Edition is a must-have for players who can get together players on the same couch. The game is easy to pick up, enjoyable for all, and actually quite challenging once you get into the deeper levels of the game. My only reservations about this one is that it's not great as a solo experience, and you might want to wait for a patch to smooth out the game's frame rate issues. With the added benefit of the Switch's portability, this could be a surprise go-to party game.
Buy The Nintendo Switch Now From Amazon.com
See More From The In Third Person Store