Analyzing the ICv2 Board Game and Card Game Sales Charts for Q1 2015
I recently discovered the phenomenal work of ICv2. They do a tremendous job of covering the business side of geeky things, such as board games and comic books. One of the things that caught my eye in particular are their board game sales charts. While their list may not be perfect, it's probably as close as we'll realistically get to how these games are performing compared to one another. Let's take a peek at their list of best selling board games and card games of spring 2015!

| | | |
| --- | --- | --- |
| 1 | Catan | Mayfair Games |
| 2 | Ticket to Ride | Days of Wonder |
| 3 | Star Wars Imperial Assault | Fantasy Flight Games |
| 4 | Pandemic | Z-Man Games |
| 5 | XCOM | Fantasy Flight Games |
| 6 | Alchemists | Czech Game Editions |
| 7 | Betrayal at House on the Hill | Wizards of the Coast |
| 8 | Roll for the Galaxy | Rio Grande Games |
| 9 | Castles of Mad King Ludwig | Bezier Games |
| 10 | Dead of Winter | Plaid Hat Games |
Sitting at the top of the charts is Catan, which shouldn't be a surprise to anyone. Having sold over 20 million copies since its release in 1995, the game continues to be a juggernaut with no signs of slowing down. Still haven't played it yet, but we do have a sealed copy of it sitting on our shelf. Will get to this eventually!
Star Wars: Imperial Assault caught me a bit off-guard in the #3 slot, having sold more in the spring than Pandemic. Yes, Imperial Assault has the brand recognition and the critical acclaim behind it, but Pandemic is a modern classic that's a third of the price. Then again, Pandemic is also kind of old, having been first released in 2007. In any case, great news for both of those games! Pandemic is one of my all-time favourite games, while Imperial Assault has made quite the first impression on me. Will have my thoughts on that game posted on the site in the near future.
Another surprise to me is XCOM: The Board Game at #5. While it does have the XCOM brand going for it, I didn't think that would be enough to make it a top seller. Back when it launched, it did have quite the buzz going for it, as it was one of the first games to deeply integrate a digital app as part of the experience. Also, it's really good. Not sure if this one will have legs, but glad to see it crack the top 10!
Betrayal at House on the Hill enters the chart at #7. At my local board game store, I've noticed it being a hot seller. For me, what sold me on the game was the episode of Tabletop that it appeared on. Bought the game off the strength of that appearance, though I've yet to actually play the game. From my time hashing out the rules, I'm not sure that it's going to deliver the same type of thrills that were seen on the show, but I'm still anxious to try it out.
Rounding out the top 10 is Dead of Winter. Based on my anecdotal evidence, stores in my area can't keep this game on the shelf. It literally sells out within hours of restocks. I imagine that if Plaid Hat Games were able to keep up with the demand, this game would be much higher on the charts. If you can find it, snag it because it's stellar.
---
| | | |
| --- | --- | --- |
| 1 | Boss Monster | Brotherwise Games |
| 2 | Sheriff of Nottingham | Arcane Wonders |
| 3 | Machi Koro | IDW Games |
| 4 | Star Realms | White Wizard Games |
| 5 | Splendor | Asmodee |
| 6 | Legendary: A Marvel Deck Building Game | Upper Deck |
| 7 | Android Netrunner | Fantasy Flight Games |
| 8 | Cards Against Humanity | Cards Against Humanity |
| 9 | Bang! | DaVinci Giochi |
| 10 | DC Comics Deck-Building Game | Cryptozoic Entertainment |
Boss Monster is a runaway success. I knew it had officially hit the big time when my local Chapters started carrying it, though I'm sure its success came way before then. As a game, I actually think its a huge disappointment and one that I don't ever want to play again. However, it did a phenomenal job of riding on its Kickstarter momentum and nostalgic box art. Boss Monster 2 is now out, and I hope that it addresses the gameplay failings of the original.
Rounding out the top 3 are Sheriff of Nottingham and Machi Koro. I knew Machi Koro was a big seller, but didn't realize that Sheriff was even bigger than that. We have both of those games and are glad to have them in our collection. There is a fundamental problem with Machi Koro, as its static setup makes it easy to create repeatable winning strategies, though the Harbor expansion fixes that with new cards and different rules relating to the draw piles. Hopefully the recently-released deluxe edition of the game that comes with two expansions becomes the most popular SKU so that the static setup problem doesn't continue to proliferate.
Marvel and DC continue to have success with their respective deck-building games. I'm much more into Legendary than DC Deck-Building, but they aim to do different things and succeed in their own ways. At this point, both games have a ton of expansions, so there's more than enough content for either ecosystem to keep new and existing players excited.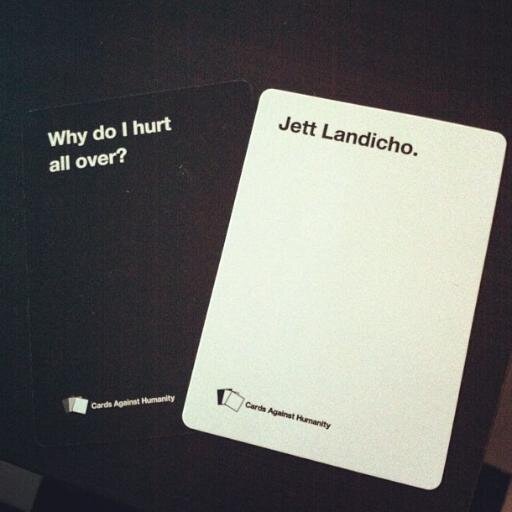 The last game I wanted to mention here is Cards Against Humanity. I'm actually kind of surprised that it's #8, as I would have expected it to chart much higher. Despite my misgivings of it being a game that fizzles out as soon as the jokes become old, my anecdotal evidence shows that this game still sells like crazy with no signs of slowing down. Is this that sign?
---
Thanks again to ICv2 for the numbers! Maybe we'll do this again for the next set of numbers!

Buy Catan: 5th Edition Now From Amazon.com
See More From The In Third Person Store